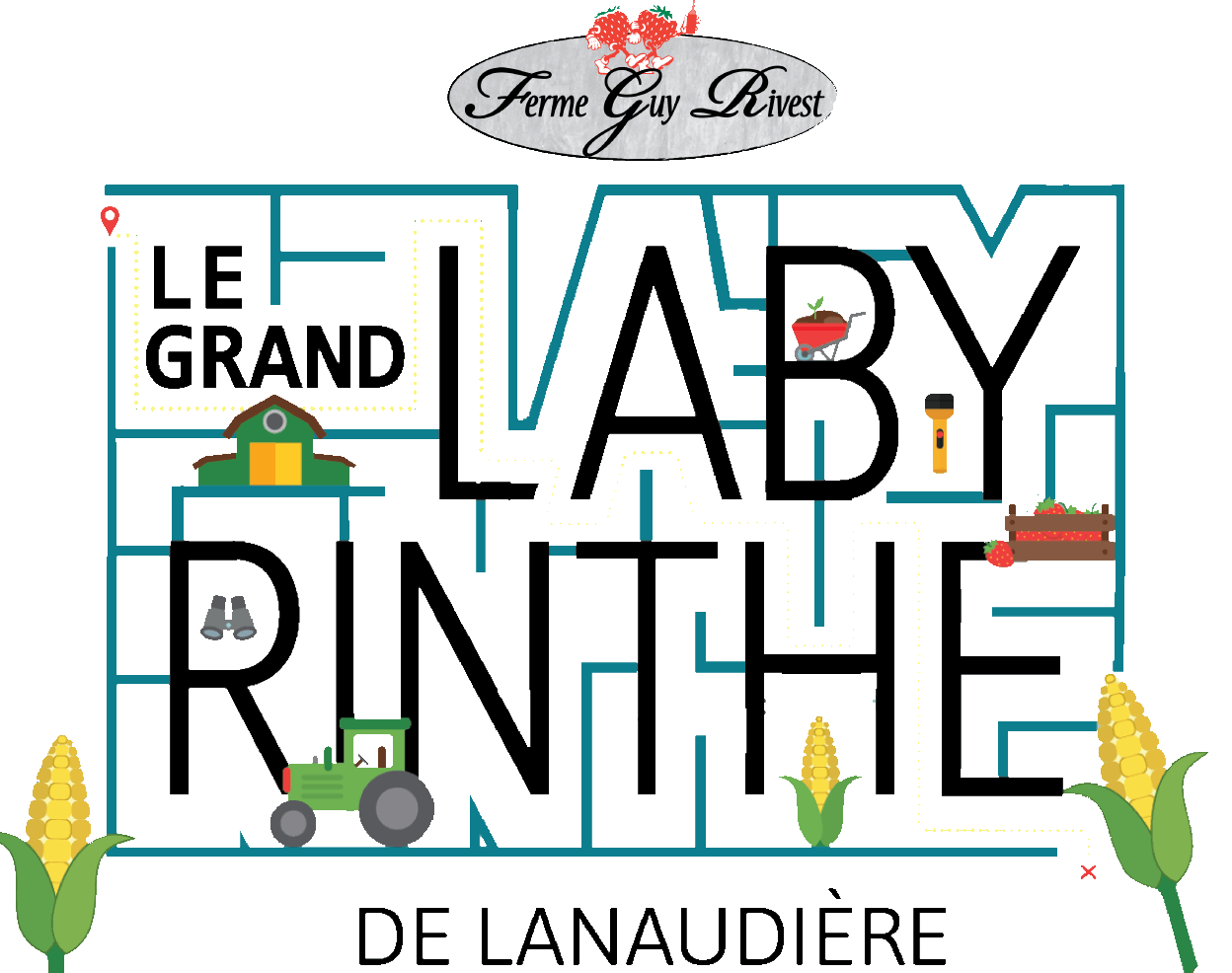 Le Grand Labyrinthe
de Lanaudière
Opened from Wednesday to Sunday
In a 6-hectare cornfield, we cut nearly more than 8 km of trails ... to make you lose the north!
​
Dotted with questions, this 4th edition is about "cinema". The labyrinth is for both adventure seekers and parents who want to have fun with children !
​
An outdoor activity that is both fun and educational and can be done in shoes or snowshoes.
* July, August : daily, 8 a.m. to 6 p.m. (last entry at 4.15 p.m.).
* September : Wednesday to Sunday, 8 a.m. to 6 p.m. (last entry at 4.15 p.m.).
* October : Wednesday to Sunday, 8 a.m. to 6 p.m. (last entry at 4.15 p.m.).

Nuits dans le labyrinthe :
* August 14th 2021 : 6 p.m. to 11.30 p.m. (last entry at 9.30 p.m)
* September 4th 2021 : 6 p.m. to 11.30 p.m. (last entry at 9.30 p.m)
* Saturdays in October 2021 : 6 p.m. to 10.30 p.m. (last entry at 8.45 p.m)
​
NB: The event is intended as a family activity. Alcohol and drugs are strictly prohibited on the premises under penalty of expulsion without reimbursement.
The labyrinth will be decorated for Halloween throughout the month of October, but additional activities and animation will be held on the dates mentioned above. The goal is not to scare the youngest, but to allow everyone to have fun!
​
The labyrinth can be closed in the event of rain or good water accumulation the same day or the day before. Call us for the conditions.
Rates (+taxes) : you must buy online ticket this year
Adult (14 years old and + ) : 8,50$

Kid (3-13 years old) : 4.25$

Baby and toddler (0-2 years old) : Free

Family (up to 5 persons, up to 2 adults [14 years ols and +]) : 22.95$
Visitor's guide and sanitary measures
Plan your visit:
If you have symptoms of influenza-like illness, gastroenteritis or similar to COVID ‑ 19, do not go to Ferme Guy Rivest and consult Public Health (toll free: 1-877-644‑4545). Please postpone your visit to a later date if you have traveled outside the country in the past 14 days;

By buying your tickets online, you will guarantee your place in the activity. Otherwise, you could be refused access to the site if the maximum capacity is reached.

Provide appropriate clothing with temperature and good walking shoes. Bring a bottle of water, a hat and sunscreen. Bring a tablecloth for your picnic table and plan a sufficient supply of alcoholic hand soap and gel for your family or loved ones. No drugs or alcohol are accepted on the site.
Upon your arrival :
Report directly to the reception, where we will explain the procedure to you.

Respect the standards set up on the site and comply with the directives, in particular with regard to sanitary measures.

Cash and card payments are accepted on site (except American Express).

Be courteous. Our mission is to make you have a good time and have fun on this magnificent farm. No form of verbal or physical violence will be tolerated, on pain of immediate expulsion.
What to expect on site:
Hand washing and alcoholic gel dispensing stations have been installed.

Markers have been installed for the waiting areas (reception and shop).

The trails are more than 2 meters wide and there are many crossings to allow you to keep your distance from another group of people.

The entries in the labyrinth are made in a progressive way: a delay between each group is planned to allow the distances.
Information:
There are two circuits in the labyrinth. A shorter one (about 20 min to go) and the big one (about 1 hour to go).

In the regular route, you will come across "emergency" exits. You will have to go ahead of it and free to you to continue your path or not.

The last starts are at 16h15.

Dogs are not allowed, except for service dog.
On the spot :
Boutique with local products and refreshments.
Payment : cash, Interac, Visa and Mastercard.